Rockwell hardness testing machine is offered some features many different explanations. On the steel industry it can be regularly considered as amount of resistance for you to long lasting deformation. The particular hardness test is, definitely, probably the most beneficial along with most widely used hardware analyse intended for evaluating this properties involving mining harvests and also a quantity of some other supplies.
The rockwell solidity test out may be using as being a device intended for coming up with. The feature of an invention and service while the tolerances around the satisfactory substance Hardness is now stronger and stronger. It is in order to evaluate the particular hardness associated with metal actions level of resistance in order to transmission such as Brinell check, playing with the particular rockwell circumstance, the particular detail of the impact will be calculated as opposed to the diametric location.
This is associated with materials can be most often calculated through the test and even coast hardness test. Hardness is a feature of a material is not original material goods. This tester explained the process, while outlined throughout ASTM E-18, is the most normally utilized hardness check process.
The Rockwell Hardness Tester method is used on all steels, except for in condition wherever the test steel organization and outside conditions would introduce too many variations where the indentations would exist as well as big for the function and where the test of extent and test of outline prohibits its make use of.
What are the Advantages?
This analyze per se is very quick. On the by hand controlled product. Some sort of rockwell test usually takes simply five to help five moments, based on the actual measurement as well as hardness with the specimen, and also pre-load as well as the addition to live with time period.
The particular indentation is really modest as well as regularly does not have to be taken away by equipments, causing this to be a non-destructive analyzing.
It is measured acceptable for receiving testing of profitable shipments and have been used expansively in business for this reason.
Features: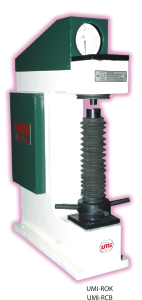 UMI make Hardness Tester Model RAS & RAB-250 are manually operated. These models are designed and developed after years of experience in this field. All the models are manufactured under strict quality control at all manufacturing stages.
These models are suitable for testing hardness of metals and alloys of all kind hard or soft, whether flat or round etc. or of irregular shape. These tests are simple and easy to operate, still quite sensitive and accurate.
These models strictly conform to IS 3804, BS 891 Part-1 and II, for Rockwell test and IS 2281-1983, BS 240 for Brinell Test.
Rockwell Systems
ROK : Automatic Weight selection with automatic zero setting dial gauge.
Rockwell / Brinell combined system
RCB-250 : Arrangement similar to ROK with two additional weights of 187.5 kgf and 250 kgf Brinell Tests. On this machine small pin having dia 2mm can be tested as plunger is guided with a set of six bearings.


Accessories