Aggregate Impact Testing Machine or aggregate impact testing equipments are the important part to the research, plan, mortars, railways weight, and material feature, control sectors of the majority structure and general manufacturing project. Constituent part form and range are necessary to the characteristics which mixture aggregate testing equipment may ascertain because how big the particular particle is may drastically have an impact on the grade of end items.
Aggregate impact testing equipments put through a sieve are capable to separate out assured sized particles and divide to the ones so as to be incompatible. Aggregate testing machine is in addition needed for these equipment experience the stress of organism process in a rock implement and additional procedure such as aggregate testing equipments shakers. Many resources employed in manufacture consist of get worse.
Generally it truly is usual to find out aggregates with regard to houses including particle sizing, submission, form in addition to structure, comparable densities, volume in addition to compressed, mechanism houses, reliability in addition to weight to be able to strike simply by chemical substances. Combination examining is essential parts with the research, style and also quality control industries of all manufacture civil anatomist projects. The aim being to obtain a consultant trial which often reflects the standard quality with the whole size with the product involved.
Features of aggregate testing equipments: Prepared with good quality resources, Aggregate testing equipments available with the different requirement to contest practice for the easy customers. These equipments were dependable in presentation and give perfect results. Easy to installation.
Universal Motion Inc., manufactures, exports and supplies only superior quality of aggregate impact value or called aggregate impact testing machine. It is for determining the aggregate impact value and has been designed in accordance with IS:2386 (Part 4), IS:9377. The sturdy construction consists of a base and support columns to form a rigid frame work around the quick release trigger mechanism to ensure an effective free fall of the hammer during test. The free fall can be adjusted through 380 ± 5 mm.
The hammer is provided with a locking arrangement.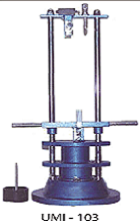 Following model of Aggregate Impact Value Apparatus is available:
UMI - 103
Aggregate Impact Tester with Blow Counter
Ref. Standard IS:9377
Supplied Complete with : Cylindrical Cup, Metal Measure : 75 mm ID x 50 mm deep,
Tamping Rod
Abrasion
Abrasion
Ref. Standards IS:2386 (Part 4), BS:812, ASTM C-131, C535, D2, AASHTO T96
Two types of machines for determining the abrasive value of aggregates are offered.