UMI - 120
For all the Heating and Drying of Samples
Introduction
Ovens are manufactured in different sizes and with different interior materials.
The ovens are double walled construction.
The outer wall is mild steel painted and inner wall in either stainless steel or aluminum.
These are well insulated with glass wool.
The heating is either from bottom or from three sides by means of best quality electrical heaters.
Standard temperature range is ambient to 250 deg.C, accurately controlled within + 2 deg.C. A heat control enables fast heating at initial stage.
Suitable for the operations on standard single phase, 240V AC, 50AC.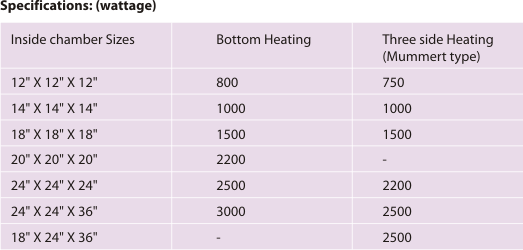 Ordering instructions:
Please advise inside chamber sizes, indicating chamber material, number of selves and single or three side heating.
Air circulating fan and digital indicator and electronic control system is also available.