UMI - 106
As per IS: 2720 (Part XXXI)
Introduction
California Bearing Ratio Test Apparatus, popularly called CBR method is used for finding the relative bearing ratio and expansion characteristics of soil used for base, sub-base and sub-grade of roads, pavements and run ways. Test can be conducted on all types of soils including sand, gravel, crushed stone etc. CBR test is extensively used for selection of materials and control of sub base.The testing procedure is very simple. A 50 mm dia penetration piston is forced in the test soil and load required to penetrate the piston is measured. Load is measured by mean of compression proving ring and penetration depth by dial gauge.
General Apparatus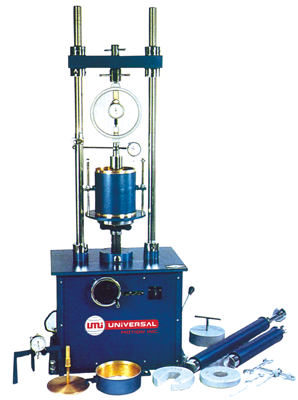 Standard CBR apparatus consist of the following:

Load Frame 5000 kg

CBR Mould with Perforate Base Plate & Collar

Penetration Piston

Circular Metal Spacer Disc

Annular Metal Weight

dapibus tortor nec

Slotted Metal Weight

Perforated Plate of gun metal

Rammer 2.6 kgdapibus tortor nec

Rammer 4.89 kg
Essential Accessories:

Proving Ring 3000 kg: 1 no.

Dial gauge 25 mm x 0.1 mm: 2 nos.

Annular Metal Weight 5 kg

Slotted Metal Weight 5 kg
Motorised CBR Apparatus
This is essentially A standard CBR except that the load frame is electrically driven. Here, load is applied through a motor driven screw jack with gear box to obtain the correct penetration speed of 1.25/7 mm per minute.
The machine can also be operated manually by a hand crank supplied with machine.
Machine can be operated on 2220-240V, 50 Hz, single phase AC supply.