N 95 Surgical Mask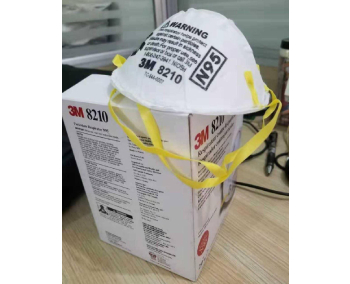 3MTM Particulate Respirator 8210, N95
Key Features:
NIOSH approved N95 rating

Adjustable nose clip

Nose foam

Ultrasonically welded headbands
Material Composition:
Straps – Thermoplastic Elastomer

Straps – Thermoplastic Elastomer

Nose foam - Polyurethane

Filter – Polypropylene

Shell – Polyester

Coverweb - Polyester

This respirator contains no components made from natural rubber latex

Approximate weight of product: 0.35 oz.
Country of Origin
Made in the USA with globally sourced materials
Use For:
Use for solid particulates and liquid mists in concentrations not exceeding 10X PEL/OEL

Always follow User Instructions and use in manners as indicated
Do Not Use For
DO NOT use for gases and vapors, oil aerosols, asbestos, arsenic, cadmium, lead, 4,4-methylene dianiline (MDA), or abrasive blasting

DO NOT use for particulate concentrations exceeding 10X PEL/OEL

DO NOT use in any manner not indicated in the User Instructions
Approvals and Standards
NIOSH approved N95 particulate respirator

Meets NIOSH 42 CFR 84 N95 requirements for a minimum 95% filtration efficiency against solid and liquid aerosols that do not contain oil.

NIOSH approval number: TC-84A-0007 • Assigned Protection Factor (APF 10) per US OSHA and Canada CSA
Ordering Information
| Description | UPC | ID # | Respirators / Box | Boxes/Case | Each/Case |
| --- | --- | --- | --- | --- | --- |
| Particulate Respirator 8210 | 50051138464573 | 70-0706-1439-4 | 20 | 8 | 160 |
Time Use Limitation
Replace the respirator when it becomes dirty, damaged, or difficult to breathe through.
Shelf Life and Storage
5 years from the date of manufacture

Use By date on box in MM/YYYY format

Store respirators in the original packaging, away from contaminated areas, dust, sunlight, extreme temperatures, excessive moisture, and damaging chemicals

Store in temperatures between -4°F (-20°C) and +86°F (+30°C) and not exceeding 80% RH
Acceptable Fit Test Protocols
Fit Test Protocol*
Acceptable with this product?
Qualitative Protocols
Saccharin
☒
BitrexTM
☒
Irritant Smoke
☐
Isoamyl Acetate
☐
Quantitative Protocols
☒