i. Manual
Model : META - MOUNT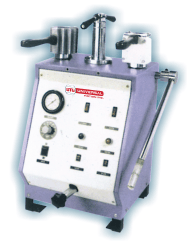 Permanent mounting of metallography specimen for correct polishing results

Helps polishing small specimens & edge retention.

Reliable hydraulic jack with pressure gauge.

Mould heater, fast cooling (air / water), timer, buzzer facilities, automatic cycles.

Dual mould capability, Std. mould assembly of 1".

Electronic auto off.
Optional
Mould assemblies 1", 1¼", 1½".

ii. Automatic
Model : Automount

Just Press a button and get the mould

Dual mould capability

Pneumatically operated

Reliable microcontroller based technology offering complete automation like pressing, heating, holding, cooling (Water circulation)

Transparent mould capability enabling seeing identification mark

Easy mould interchangeability

Fast mould production

Moulds Produced - 1", 1¼", 1½",

Heater - 1000 Watts

Cooling - Automatic Water circulation

Air pressure required - 150 psi

Electrical supply - Single phase