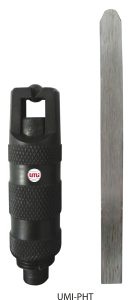 Model : UMI-PHT
Feature :
The hammer type Poldi hardness tester or Poldi hardness testing machine is suitable for measuring the Brinell Hardness of steel cast iron brass Aluminum copper etc.
The Poldi hardness tester is useful to test part where branch type model is not useful. This type of machine is most ideal and simple for foundries workshop engineering colleges Technical institute etc.
Load is applied by hammer below on the specimen and a standards test bar in liner direction through hardened steel ball of 10 mm dia.
The impact load on both is the same. The extent of indentation of the specimen are measured by the magnifier to the chart supplied with the machines.
Technical : Hardness data :
Hardened steel ball, 10 mm dia fixed inn a special folder with a spring loaded plunger.
Standard test bar :
Each bar individually calibrated and multiplying factor marked there on.
Magnifier :
Measuring range 10 mm, Scale graduation 0.1 mm, Magnification 10x Accuracy of measuring 0.05mm
Hardness Table :
Comparison table for finding hardness Separate table for steel cast iron , brass, copper & aluminum.