UMI - 107
Compression Testing Machine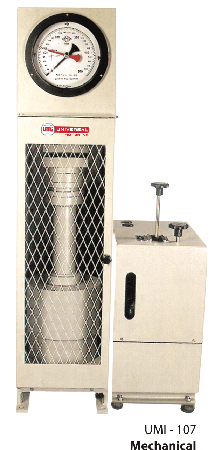 For laboratory (and field) use, to find cube crushing strength
Introduction
Compression Testing Machines are used for crushing the test specimen. Design engineers carefully design concrete for a particular compressive strength and applying load in compression Testing Machine tests specimen. We manufacture a range of Compression Testing Machine from 10 Tones to 300 Tones and dial gauge to digital. Portable models are also available for field uses that operate manually, without electricity.
Automatic Compression Testing Machine, Cube Compression Testing Machine, Compression Testing Machine
Concrete Compression Testing Machine Features:
Testing Platen made from EN 31

Imported WIKA Germany Gauge used

Self designed Hydraulic Pump

Standard make (i.e. CG/GE/BB) motor used

Solid hs rod used for pillar construction

One man operation with efficient switches
Electric Pumping Unit

The Pumping Unit is a separate console housing oil tank, electric motor, and relays etc. Inside the oil tank we provide two pump works through a rotating cam. All plungers are accurately machined, without the use of any oil seal. The pumping unit on its face has a fast and slow speed controller, on and off switches, release valve and slit for hand operation. Only standard electric motor is used for operation either on single phase or three phase AC supply. In all hand operated machines we provide two pumps, one for non-loading conditions to lift the jack very fast. Other jack is the main loading jack, used for the actual loading. Load Frame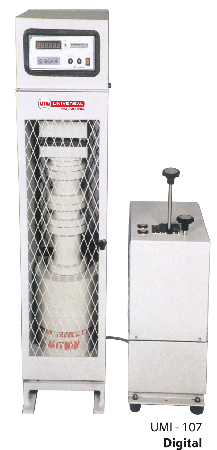 Load frame is the main body of the Compression Testing Machines. These may be C type welded construction, Two Pillar type, or Four Pillar type, as required by the customer. Pillars are made from high strength steel, actually tested in the factory to bear plus 25% of the required load. Specially designed bolts are used in pillar type machine. C type welded load frames are constructed with tested welding. Only high strength steel is used for the construction. With special attachment this can also be used for the testing of brick, block or other materials. To reduce the testing space we provide either lead screw or spacer blocks. Spacer Blocks (if required) are equipped with hole and bolt for better holding and I shape construction for ease in lifting. Gauge/s may also be fitted over the load frame (if required). We provide complete range of Compression Testing Machine from 10 to 300 Tones in different reading options. Portable models are made for field use and operate without electricity. With special attachment the machine can also be used for the testing of brick, block or other materials. Load Indication

Load is indicated either over Dial or on Digital Display Unit. We utilise only original WIKA pressure gauges as load gauge. These are selected according to the ram diameter of the jack. We always write ram diameter over pressure gauge so that it is used when required. Digital Load is sensed by quality electronic pressure transducer and transmitted over to bright LED Indicator. The indicator has zero set function and calibration function available for future use.