UMI - 113
International specifications for concrete strength testing require test specimens to be cast in a number of standard sizes for compression and flexural strength determination.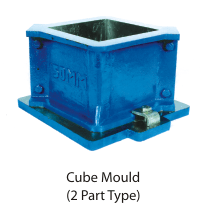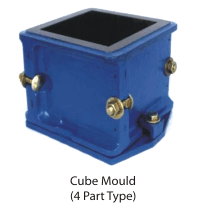 UMI Moulds are made of high quality metal, and are strong enough to resist distortion or porosity and retain their shape and size under rugged conditions. These moulds are given internal surface finish of a very high order, to comply with requirements laid down in IS:10086, BS:1881, ASTM C31 and ASTM 192. The design is such that during dismantling and re-assembly, these moulds attain accuracy of alignment.
UMI offers Cube Moulds, Cylindrical Moulds and Beam Moulds of various sizes as listed below :
Cast Iron Cube Moulds & Cyl. Moulds For Concrete Testing
Cube Moulds available 150x 150mm and 100x100mm
Specifications :

Cast Iron made : 150x150mm

Base Plate : M.S 10mm thick

Weight : From 7.5 kg to 17.5kg

Colours : Blue or as per requirement

Packing : Each mould will be packed in carton box after covering poly bag and 50 boxes will be packed in one wooden case.

Above moulds are supplied exactly as per BS EN 12390-1: 2000, if required.

Above moulds also available in 14kg & 17 kg weight .

We also have various other low cost Cube Mould, Cylindrical Moulds, Beam Moulds and other concrete testing equipment.

UMI regularly exports Soil & Concrete Testing Equipment to Middle East , UK, Italy & African Region.