We are manufacturer, supplier and exporter of thermal engineering lab equipments to our customers. Our products are made with superior quality of technology.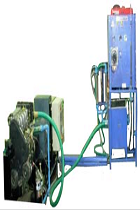 Thermal Engineering Lab Specification
Digital RPM indicator and sensor PPI

Fuel Measurement by graduated glass pipette.

Electrically operated solenoid valve.

Air intake measurement with air chamber, U tube manometer, orifice meter, and graduated scale.

Spring Balance for measurement for load measurement.