Model : UMI-IT 30 (ASTM)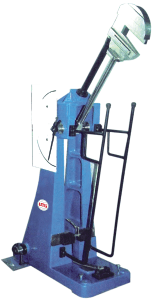 This Impact Tester offered Dial Type with 300 J energy exclusively for Charpy Test conforming to ASTM E-23. This machine is geometrically checked in the Works to the more stringent requirements of the American Standard. The accuracy of the machine is then verified by PROOF TEST by testing standard test specimen supplied by the NIST, U.S.A.
All two sets of the five specimen must agree with the normal values within standard tolerance.



DELIVERY :
Within 12-14 weeks.
The test specimen are imported from NIST, USA & report is sent back to them along with the standard specimen. Standard specimen energy values are verified by NIST & the conformation Certificate is issued according to ASTM Standards.
Optional Accessories :

Caliper Gauge for Checking 'V' Notch.

Templates for checking 10 x10mm cross section of charpy test specimen.

Depth Notch Gauge including U & V notch gauges for checking depth below V/U notch, angle and radius.

Self Centering tong for quick accurate setting of Charpy test specimen.

'V' Notch Milling Cutter

'U' Notch Milling Cutter