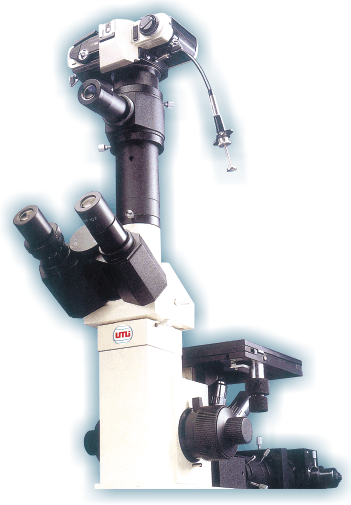 High Resolution and flat field

Planochromatic Objectives (High N.A.)

Magnification up to 1600 X (Dry)

Imported, Assembled
Specifications
Viewing body :
Seidentopf Trinocular Head, inclined 300, able to rotate a full 3600 with 55mm to 75mm interpupillary adjustment. Left Eye diopter adjustment of -5 to +5. Multiple-coated transmission prism system.
Stage :
Integrated mechanical stage size 180mm x 150mm; Right-hand coaxial drop-down X-Y control knobs, Range of motion 15mm x 15mm, with single spring Clip.
Focusing Mechanism :
Brass gear train focusing system; Adjustable tension control. Coaxial coarse and fine, with dial markings at 0.002mm increments. Adjustable Up-Stop to protect lenses from damage.
Illumination :
6 volt, 20 watts Halogen bulb with intensity control, adjustable condenser, aperture iris diaphragm, field iris diaphragm and filter slot. Fuse 0.5 Amp, located in the base.
Eyepieces :
Plan wide field - 10X, 16X, 20X (Each in pair)
Objective Lens Specifications :
(DIN Std.) Standard Accessories :
Dust cover, color filter set, spare halogen lamp and fuse.