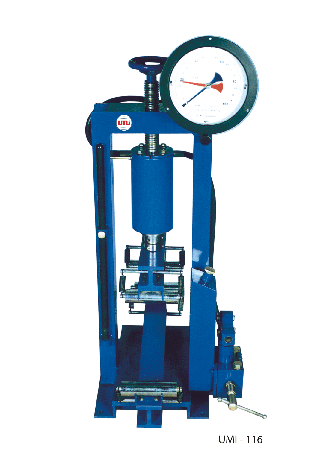 The Flexure Strength Testing Machine, conforms to IS:516, IS:9399, BS:1881 and ASTM C78.The Flexure Strength Testing Machines are designed to provide maximum rigidity throughout their working range. The load is applied by the downward movement of a hydraulic ram. The jack can be raised or lowered for testing different size beams. The load is indicated on a calibrated Bourdon tube type load gauge of range : 0-100 kN x 0.5 kN (0-10,000 kgf x 50 kgf). The load gauge is calibrated against NPL/NCCBM certified proving ring.

UMI - 116
Flexure Strength Testing Machine for concrete slabs
Ref. Standard IS:4969
The Flexure Strength Testing Machine is designed to suit the requirements to test precast Cement Concrete slabs for Canal Lining as per IS:4969.
The machine consists of a Bench Mounting type loading unit having a capacity of 25kN (2,500 kgf) with a self retracting type jack and a hand operated hydraulic pump. A 25 kN (2500 kgf) x 0.25 kN (25 kgf) capacity load gauge, with maximum load indicating pointer, is attached to the pump.
The machine has a set of platens, the top platen has a self aligning roller fixed at the centre and the lower one has two rollers of 25 mm dia, equally spaced at a distance of 15 cm. These rollers are hard chrome plated to increase the abrasion resistance and hardness.