Brinell hardness tester examination has been invented through sort of. J.A. Brinell within 1900 utilizing a metal ball indenter that has a 10 mm size. Hardness is a feature of a material not original physical material goods. It is defined the same as the confrontation to indentation and it is resolute by the measuring the stable power of the indentation. The Brinell hardness test technique is as used to the establish Brinell hardness is defined in ASTM E10.
Generally it is used to analysis equipment so as to enclose an organization to be also common and to have a plane that is too uneven to be experienced using a different examination technique. Brinell testing regularly use an extremely high examination load (3000 kgf) and a 10mm narrow indenter consequently to the producing indentation averages out the majority outside and sub-surface inconsistency.
Advantages of Brinell Hardness Testing Machine:
This hardness is Suitable for tests constant below uneven workshop situation.

This hardness is the Suitable for tests on the inhomogeneous equipment.

Brinell hardness testing is the plain experiment process.

This testing machine is the plain and economical access factor.

In this machine the translation interested in tensile power for different equipment.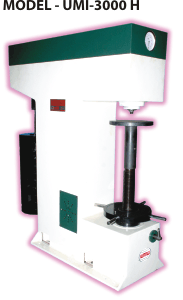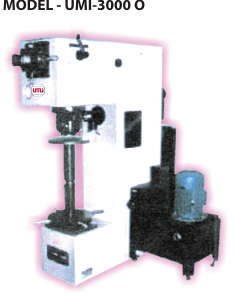 These brinell hardness testing machines are produced and expanded which is made-up using by best quality goods. Knowledgeable teams are working for manufacture this creation attractive trouble of the minutest technological particulars. These brinell hardness testers know how to be availed at sensible charge.
Brinell hardness tester know how to be considered by resources of factoring the exacting indent extent as well as the inspection authority however it isn't compulsory to the generate the exacting computation used for each particular inspection. This equipment is completely mechanical and regular the hardness tester is not the artificial by the machinist affects.
The brinell hardness testers are gives the result of determining the long lasting thickness of the indentation created by the carbide agreement useful to the test example of the given weight for the given duration of the period.
Machine designed are precision engineered confirming to IS : 2281 - 1983. BS : 240 and ASTM : E 10
These machines are designed to measure hardness of casting forgings, other metals and alloys of all kinds, hard or soft, whether flat, round or irregular in shape.

Technical Data : UMI 3000 H
Standard Accessories : UMI 3000 H

-
Technical Data : UMI 3000 O
Standard Accessories : UMI 3000 O